Welcome to this blog to our very dear customers who have agreed to tell us behind the scenes of their wedding.
Who does not dream of gleaning some good plans before D-Day?
Discover a designer wedding canon, find a good photographer or find good theme inspirations to have the perfect procession…
Les petits choux think of you and circulate the information!
This is the start of a series that we hope will grow thanks to your testimonies.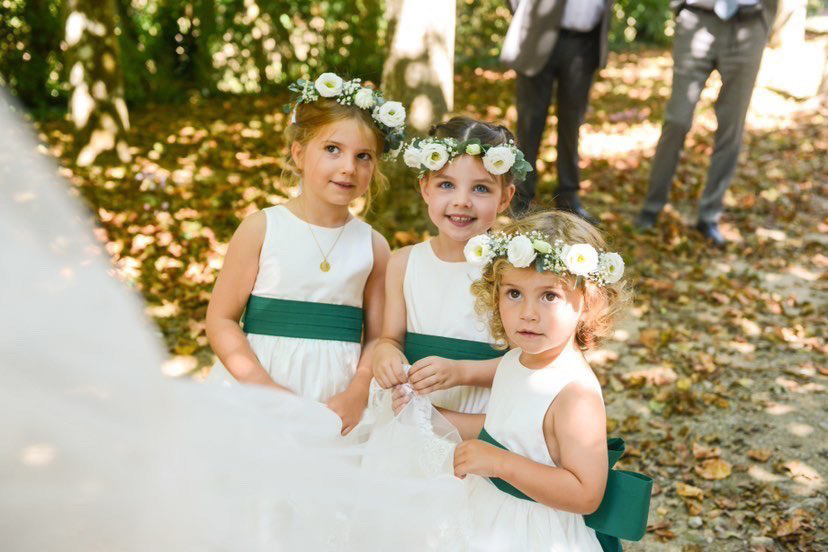 Episode 9
Caroline' s wedding
Hello Caroline,
Thank you for agreeing to tell us about your wedding.
Who are you ? age, profession, city ...
My name is Caroline, I am 28 years old, I live in Paris and I am a project manager
At what time of year did your wedding take place?
Our wedding took place on 27 August 2022
Where? Why?
At the château de Craon, in Mayenne. My husband and I are both from Paris and had no attachment to any particular region. This was the first castle we visited and we fell in love with it!
How long did you have to organise all the preparations?
We had 1.5 years
What was the easiest and least easy part of the preparations?
The easiest was finding the caterer, DJ and photographer... we went about it 1.5 years in advance so there was plenty of choice
The least easy were all the last minute preparations
Did you have a theme or colour?
Yes, a colour, Fir Green
Was choosing your dress easy...which designer?
I tried on a lot of dresses but none of them were the one I wanted. So I decided to have it made at Gilles Zimmer, he was amazing!
Did you have any honorary children?
- How many? 7
- What ages? Between 2.5 and 5.5 years old
- girls and boys? 4 boys and 3 girls
What model(s) did you choose?
The white Cleophee dress with petticoat for the girls with a fir green belt with religious pleats
Aladdin shorts and white shirt for the boys with a green belt with religious pleats.
Have you taken a photographer for the D-day? Would you recommend him/her?
Yes, Jean-Baptiste Guerlesquin, he was perfect!
Did you have any appetizer music for the dinner? if so which one?
Yes, Baby by Bakermat
Overview of this unique day?
A magical day!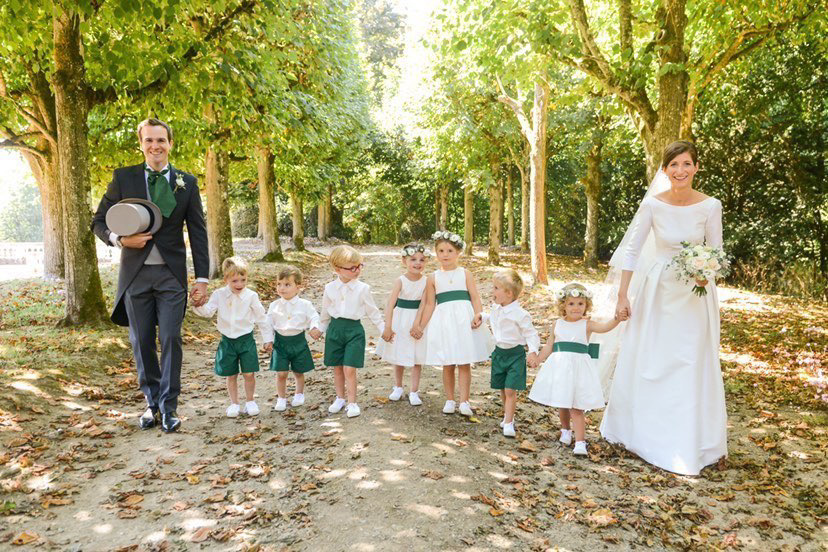 Best memories?
The moment I discovered my husband, once we got dressed
If you had to do it again, what would you do differently?
No, we would do everything the same again, it was perfect :)